Poster Presentation, Sep 5th, 17:45 – 19:45 with Dr Luca Ortensi!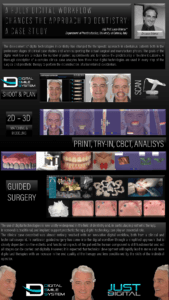 Read More
Our clinical & technical team will take you at the heart of digital dentistry in a first-hand experience of our effective digital protocols on real patients. Yndetech's advanced technologies will turn virtual into real.
Download the flyer here: D_DAY_2_eng
Read More
Two great experts will lead you in a course full of expertise and contents about Implant-Retained Overdenture.
Info & subscriptions at jd@just-digital.it – 344.2738611
Downloand the flyer here: CORSO PROTESI LO_CB_ENG
Read More